Futsal is an exciting, fast-paced small sided soccer game that is played across the world and is officially recognized by both FIFA and UEFA. Futsal is played on a hard surfaced, basketball sized court using a smaller, low bounce ball.  Futsal places a large emphasis on technical skill in high pressure situations which can be translated into the outdoor game.  It is a great skill developer as it demands quick reflexes, fast thinking and pin-point passing.
Americans SC is proud to continue the winter supplemental Futsal camp program!  The Club strives to give all players the opportunity to develop individually during the season, but we also recognize the desire players have to improve outside of the team training sessions.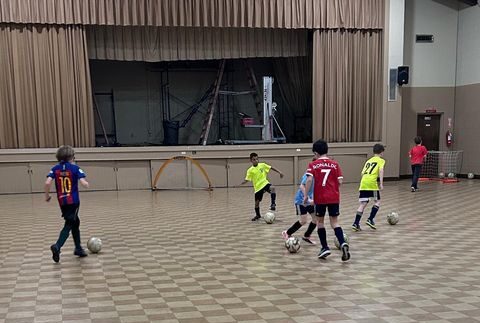 Winter 2023 Futsal Camp Information
Beginning in early January 2024, we are offering an optional and supplemental 10 week futsal training camp for Americans club players in the U8-U15 (2016-2009) age groups. Training will be lead by Oli Gough, the Americans Director of Coaching and will occur in the Guardian Angel Church gym in Allendale, as well as, St. Luke's Church Gym in Ho-Ho-Kus.
10 Week Futsal Camp:
This program is open to current Americans boys and girls 
Weekly one hour training sessions consisting of individual instruction plus small-sided scrimmages
Players Will Focus On:
Individual skill work, especially focusing on ball manipulation
Quicker decision making under pressure
Lots of touches in a small group environment
Increased understanding of small group tactics
Scrimmaging other players in fast paced games
The full schedule is available on the Registration page.
The priority in Futsal is to motivate players in an environment that is conducive to learning. The benefits of playing Futsal are:
More touches:  With fewer players, smaller space, and an emphasis on keeping the ball on the ground players will get way more touches.  This means they will have more time on the ball, make more decisions, be more involved, and gain more experience in a shorter period of time.
Quicker decision making:  Because of the nature of the game players will be forced to make quicker decisions at a higher speed under more pressure. 
More 1v1 situations:  Futsal forces players to engage in more 1v1 situations.  They will become more comfortable taking players on and keeping possession of the ball and also find themselves in more 1v1 defending situations. Futsal forces every player to play both ways which will help improve both attacking and defending skills.
Encourages creativity:  Tight spaces will force players to use their technical skills but also their creativity to be unpredictable.