We are proud to continue the retail partnership that was created in 2020 to supply Uniforms, Fan Gear, & Apparel with:
Berkenmeier's Sports Shop, 213 Main St , Hackensack, NJ 07601 Phone: 201-488-2370
About Berkenmeier's Sports Shop
When Birkenmeier's Sports Shop began in 1982 it offered just a handful of soccer shoes and apparel. The store now offers more than 350 types of shoes, apparel, and team uniforms from around the globe. Our business specializes in soccer apparel across the globe. At Birkenmeier's you will find all the latest in gear and apparel worn by all your favorite soccer players and teams around the world.
Birkenmeier's Sports Shop was founded in 1982 by former Cosmos teammate, Hubert Birkenmeier, Birkenmeier sold the business to Eskandarian before leaving to play indoor soccer in Chicago after the Cosmos folded in 1985.
During those years, Birkenmeier was a First Team NASL All Star selection in 1982 and 1984, a Second Teamer in 1981 and an Honorable Mention in 1983.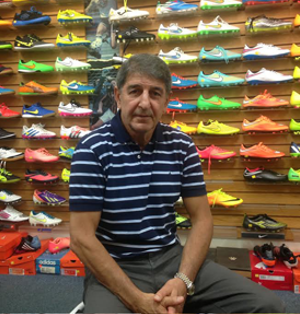 Uniform Ordering Information
Based on our contract with Adidas, every 2 years all Americans players must purchase new complete uniform kits.
The 2023-2024 season is a new year in the current contract, which means ALL players require new kits/uniforms (except players who ordered a new uniform in Spring 2023 do not need to purchase a new uniform). Please read the uniform ordering guide document below. The link to the online store is also below. 
For ALL players in the club, you will need to purchase the full kit (including the free training shirts).
For players that joined in Spring 2023, we will automatically provide you with your free training shirts for this year. No need to purchase anything, unless you want optional gear.
WE WILL BE PROVIDING YOUR CHILD'S UNIFORM NUMBER DIRECTLY TO THE SHOP ON YOUR BEHALF.
Limitless Slides: Americans Soccer Club Edition
Limitless Slides™ are the first and only footwear with embossed words of affirmation on the insole, and interchangeable inserts (called "TIBAHs™") on the vamp. The Limitless Slides™ come with 4 TIBAHs™ already – "I AM," "LIMITLESS," "GRATEFUL," "CONFIDENT." The words on the insole include "Ready," "Driven," "Strong," and a dozen others.
The Americans Soccer Club Edition Limitless Slides™ additionally come with two (2) interchangeable TIBAHs™ that are printed with the Americans Soccer Club logo. The players feel the embossed words of affirmation surrounding their feet, and they able to represent their team with the customized TIBAHs™.
The Americans Soccer Club Edition Limitless Slides™ are normally $89.95, but between now and November 30th 2023, when you use code AMERICANS at checkout, they are just $53.95! (Please note, there will be a price increase after 11/30.)
This ordering link is live right now! You can also copy and paste the following link into your browser:
https://limitlessslides.com/products/americans-soccer-club
The slides and custom TIBAHs™ will be delivered in January, in time for the Spring season.