The Americans are proud to continue the summer soccer program for girls and boys for ages 1st thru 8th Grade.  The Americans "Summer Clinic Series" is geared to bridge the gap between the Spring and Fall soccer seasons and creates a fun way for players at all levels to continue to develop their skills for the soccer seasons to come.
Browse our upcoming Summer Clinic Series details below and/or register.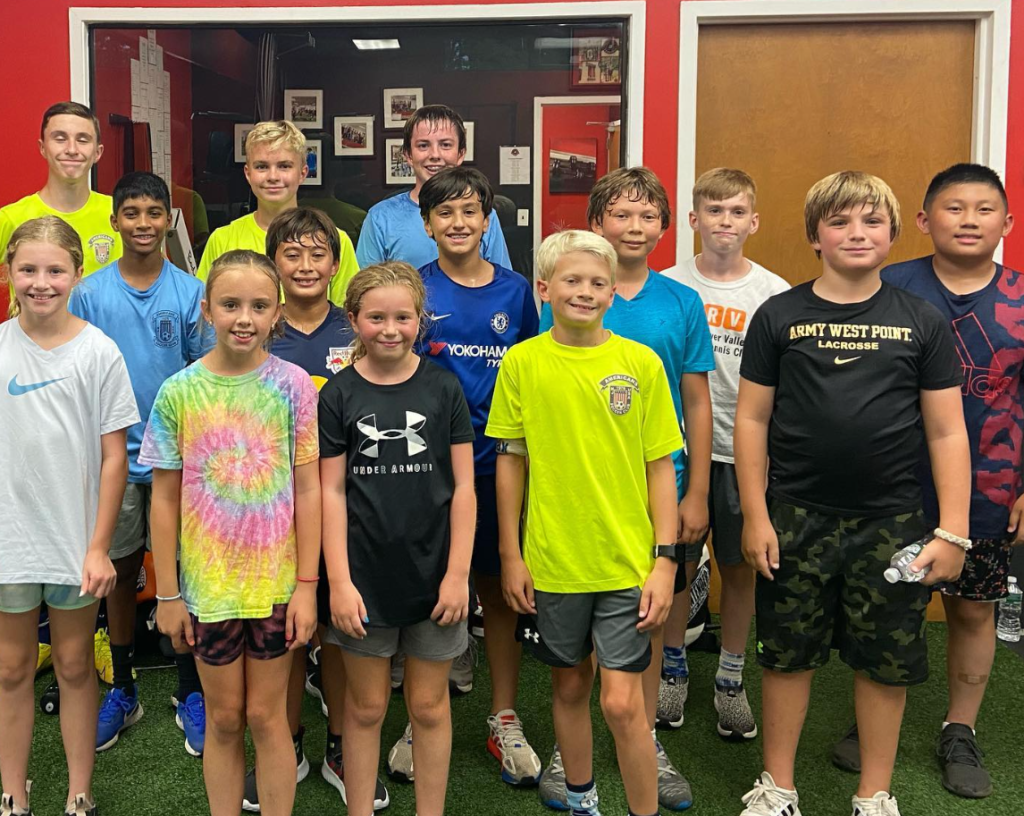 2023 Summer Clinic Details
The Americans are offering 2 wonderful summer clinic options, typically:
Age Group: 1 – 8
Duration: 6 weeks
Camp Sessions:
Foot Skills & Ball Mastery
All techniques will be taught from Coerver Coaching.  Skills will be taught in isolation to be able to execute the skill. Move onto passive pressure to get used to beating defenders.  Small sided games/scrimmages will be utilized so players can use the skills in actual game scenarios.  An example schedule is included below.
Session Plan & Skills Build-up:
Session 1: Inside / Outside Cuts & Drag Backs
Session 2: L-Turn & V-Turn
Session 3: Roll Over & JJ Okocha Move
Session 4: Matthews Cut & Scissor Move
Session 5: Single Lunge & Double Lunge (aka – Fake & Take)
Session 6: Cruyff Turn & Ronaldo Chop (bonus – Maradona)
20 – Minute Segments & Session Breakdown:
Hour 1:
20 minute skill development, to learn the skill and execute at speed without defenders.
20 minute passive pressure towards stationary defenders to develop awareness and spacing for skill
20 minutes 1 on 1 set up with full game realistic pressure.
Hour 2:
The second half will be spent applying the skills in small sided games/scrimmages. Each session skill is related, so many of the movements are similar, but second skill is more challenging.
A sample schedule is included below.
Session Plan & Skills Build-up:
Session 1: Shooting (Power)
Session 2: Shooting (Accuracy)
Session 3: Aerial Finishing
Session 4: First Time Finishing
Session 5: Turning to Shoot // 1 on 1's
Session 6: Crossing & Finishing
20 – Minute Segments & Session Breakdown:
Hour #1:
20 minutes – learning technique, which of foot addresses the ball for each strike
20 minutes – striking at targets with a moving ball
20 minutes – shooting with stationary obstacles to challenge the player shooting
Hour #2:
30 minutes –  shooting and finishing with goalkeepers
30 minutes – game situation with focus on shooting with goalkeepers
✓ All campers must bring a filled water bottle with them – we will not have water bottles on the fields for groups to use.
✓ All campers must bring a soccer ball – we will not have "loaner balls" available.
✓ All campers should wear cleats as we use grass fields.  Shin guards will also be required.  
✓ Campers should apply sunblock at home- coaches will not be able to share sunblock or help campers apply it.  
✓ Drop off is available from 4:45pm; pickup is promptly at 7pm.  
✓ Camp will be held weather permitting (players can still participate in light rain). – if the weather forecast is such that camp may not be held, we will email all registrants as soon as possible